Loudon City officials are cracking down on underage beer sales and at least one arrest has been made. On

Dec. 6 Priyankkumar Ambala Patel, 30, Knoxville, was charged with violation of alcoholic beverage laws and released on $2,000 bond. According to the 12/20/17 Daily Edition story, Patel is a repeat offender.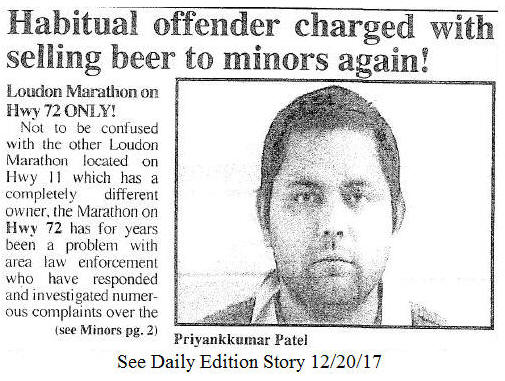 The Loudon Beer Board will meet January 3rd to review the above violation and others.
---
The City of Loudon Beer Board

will hold a special called meeting Wednesday, January 3, 2018 at 3:45 PM in the City Council Meeting Room located at 201 Alma Place. The purpose of the meeting is to consider the violation of the Tennessee Code Annotated ß57-4-203 pertaining to underage beer sales made at the following businesses:

Tobacco and Beverage Mart owned by Mangal Corporation located at 1562 Highway 72 N;

Weigelís #62 owned by Weigel Stores, Inc. located at 12350 Highway 72 N;

Ianís Mart #21 owned by Guruji, LLC located at12505 Highway 72 N

D.P. Market owned by D.P., Inc. located at 14934 Highway 72 N.

Anyone needing special accommodations in order to participate in the meeting should contact the City Managerís office prior to the meeting at (865)458-2033.