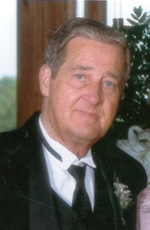 Carl Edward Whited—age 82 of Knoxville, TN--passed away on July 28, 2012.
Carl was the owner and operator of Carl's Drive-In in Loudon, TN and was best known for his dip dogs. He dedicated 53 years of his life to his restaurant and serving the Loudon community. He touched the lives of many people with his smile and generosity, and maintained his trademark sense of humor all the way to the end. He attended West Park Baptist Church. He served in the United States Army for 2 years.
Preceded in death by his parents Charles and Bertha Whited; sister and brother-in-law June and Bill Horner; and son-in-law Brad Nowell.
Survived by his beloved wife of 48 years, Dottie; daughters, Kathy McKelvey, Carol Nowell, Kristi Whited, Carla Pruiett and son-in-law Brad Pruiett; grandchildren, Lindsey McKelvey Case and husband Dylan, Stephanie Nowell, Marti Nowell, Bradley Pruiett and Carley Pruiett; and a host of nieces, nephews, cousins, and his dedicated and loving restaurant family.
The family will receive friends Thursday, August 2, 2012 from 4:00pm until 7:00pm with funeral services starting at 7:00pm at Loudon County High School Auditorium.
Graveside services will be at Highland Memorial Cemetery on Friday, August 3, 2012 at 11:00am. In lieu of flowers please donate to Mission of Hope, P.O. Box 51824, Knoxville, TN 37950
This Is Courtesy of The Loudon Funeral Home Staff