Car crashes into Lenoir City business, injures 3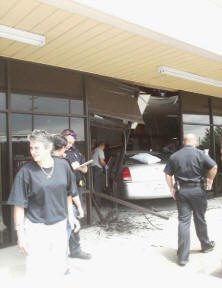 LENOIR CITY (WATE) - Three people were injured Wednesday afternoon when a car crashed into a business on U.S. Highway 321 in Lenoir City.
The driver of the vehicle crashed through a front window of Lenoir City Eye Center. The injured were patients at the center. The driver was also a patient. She was uninjured.
The injured were taken to a nearby hospital with minor injuries.
In all, about 20 patients and staff were in the office at the time of the crash.
The owner of the building told 6 News this was the third time someone has crashed a car into the building. He said he intends to put up a concrete barrier at the entrance.