CAMERON TAYLOR-

6 News Reporter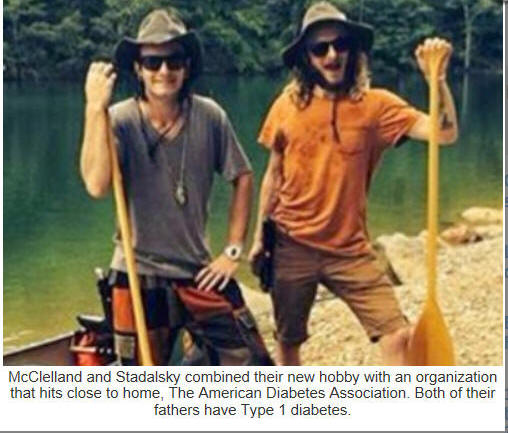 LENOIR CITY (WATE) -
Two men from Aurora, Illinois are paddling 1,000 miles to raise money for the American Diabetes Association. They started near Bryson City, North Carolina and will end up in the Gulf of Mexico by Mobile, Alabama.
Nolan McClelland and his roommate Peter Stadalsky aren't your average canoers. If you asked the two Aurora, Illinois natives if they canoed two months ago, they would tell you it's been a while.
"The last time before we bought this canoe, the last time I was in a canoe was maybe like eight years ago or so," said McClelland.

The idea for the Paddle To Cure Diabetes all began when they found an old canoe in their hometown. McClelland and Stadalsky combined their new hobby with an organization that hits close to home, The American Diabetes Association. Both of their fathers have Type 1 diabetes.
"It was an opportunity to take an awesome adventure and also show some support for the guys who have been supporting us our whole lives," said McClelland.

They're putting their jobs on hold to raise at least $10,000 for the organization. Typically they paddle about 10 to 15 miles a day and only put on their canoe what they're willing to carry. While it can get tough out there, McClelland and Stadalsky say the adventure has been more than they ever expected.
"It's a fair trade off. For every waterfall, there's a rain cloud. For every star in the sky, there's a mosquito, but it balances out and we're coming out smiling every time," said Pete Stadalsky of Aurora, Illinois.
Their entire journey is expected to take around 70 days. By Thursday night, they will make it to Kingston. If you would like to help out their cause, you can log onto Paddle To Cure Diabetes.