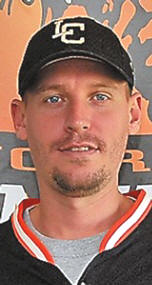 Buzz McNish is leaving his alma mater to take on a new challenge.
McNish, a 1994 graduate of Lenoir City High School and the school's baseball coach for the past 11 seasons, is moving on to take the same job at West.
"Sometimes things in life change, circumstances change, and you look at your future and your family and you've got to do what's best," McNish said. "I love Lenoir City and I love the kids there. It's not really anything that I expected I would ever do, but somehow things in life change and circumstances change, and you do what's best for your family."
McNish replaces Jeff Wright, who stepped down after eight seasons. Wright took a job last summer as special education supervisor with Knox County Schools.
It would appear that McNish has some work do at West, which went 4-20 last season, 2-11 in District 4-AAA, tied for last place with Lenoir City (18-14, 2-11).
However, Wright had some good runs at West. His 2008 team finished 17-10, and the Rebels went 10-10 in 2010 — their first season moving from District 3-AAA to 4-AAA — and were 7-6 in the district.
McNish likes what the West job has to offer.
"People have talked to me in the past about jobs and it wasn't anything I ever listened to and wasn't anything I was every really interested in," McNish said. "In this particular case, it was a good opportunity. There's some history there (at West). They've had some good players come through there, and it's a good opportunity to do a lot of good things."
McNish played baseball for Maryville College after finishing his playing career at Lenoir City. In addition to coaching at the high school level, McNish is active in summer-league baseball programs and was selected the National Amateur Baseball Federation's "Man of the Year" for 2010.
Last month, McNish was one of 32 coaches for the USA Baseball and Major League Baseball's Tournament of Stars at the USA Baseball Training Facility in Cary, N.C.
"(There were) 144 of the top players in the country, so it was a pretty good experience," McNish said. "I got to see a lot of good players."
McNish wants to see some of those in his West program.
"I'm excited," McNish said. "I'm excited about the new challenges that come with it, getting to know the kids and the families and starting to build relationships there and building a solid program."