Students call bus ride a "tornado trip," driver charged with D.U.I.
WBIR.com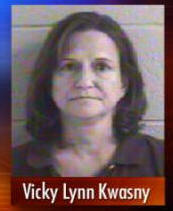 Science may his favorite class, but 5th grader Dylan Elkins didn't want anything to do with the physics experiment going on with his school bus Tuesday morning.

"It felt like we were stuck in a tornado, just going side to side, tipping over, rocking back and forth and everything," Elkins said.

At one point, the bus stopped so Elkins and a few others hopped off and headed up the road for home.

"Because she was crazy and everything," he said. "I figured if everyone else was getting off, we should get off too because we didn't want to die either."

Then, the driver pulled the bus over into a church parking lot. First responders found her hunched over the wheel.

"I've been a police officer here for 26 years and I can never remember anything like this in Loudon," Police Chief James Webb said.

"I was thinking it was a medical condition that this poor lady had had," Michelle Cole, a Loudon parent said.

But police say, that lady, Vikie Kwasny, was on pain pills while driving her route that day. When police officers responded, she couldn't stand up for a sobriety test.

"It was at the end of the route basically so she would've been operating the bus for about an hour," Webb said.

"Now, I'm furious," Cole said. "Let's say there were 50 kids on that bus, there should be 50 counts of child endangerment."

Eventually, the district got those students who were still on the bus to Loudon Elementary School. As for Kwasny, she now faces a pair of misdemeanor charges. One for D.U.I. and another for child endangerment.

Tennessee's Bureau of Investigation has a sample of Kwasny's blood and will be testing it to determine what drugs, if any were in her system. According to a Loudon police report, Kwasny admitted to taking the pain pill, Soma.

"That is child neglect," Cole said. "None of them (students) feel safe, the parents don't feel safe anymore. What do you do when you can't feel safe putting them on the bus anymore?"

Kwasny claimed to have a prescription for the drug and was taken to Ft. Sanders Medical Center and then jail.

The school district says Kwasny does not have a record with the school district and her driving record is clean as well. Parents say the Loudon woman also worked at Loudon High School's cafeteria during the day.

The bus's on-board video camera was not working properly during Tuesday's route. Assistant Superintendent Gil Luttrell said the district wasn't aware of the problem but that the bus had a fairly new system that hasn't been working since September 15.

Luttrell said they didn't know it wasn't working because they hadn't had any reason to test it.

"That doesn't surprise me," Cole said. "None of the students feel safe, the parents don't feel safe anymore. What do you want when you can't feel safe putting them on a bus to go to school?"

While some parents, like Cole have already contacted an attorney, Elkins is just looking for another ride to school.

"My mom is going to take me to school or I'll just walk to school. But I'm sure not riding the bus," Elkins said. "I just don't trust the bus, at least for a week."