A Loudon County school bus involved in a crash Wednesday had two cameras, but the devices did not record the incident because a video card was not inserted, a school official said.
"This was not a (school) system failure. It was human failure," said Gil Luttrell, assistant director of Loudon County Schools. He noted the principal at North Middle School had removed the video card to review an incident from a few weeks ago and "for some reason, a replacement card was not reinserted."
Some of the students who rode bus No. 34 Wednesday attended North Middle.
Gary Keener, 47, of Lenoir City, was driving the students about 7:13 a.m. to school when he lost control of the vehicle, according to Tennessee Highway Patrol Trooper Carey Hixson.
Seven students were transported to area hospitals with nonserious injuries.
Keener, who was not injured in the accident on Northshore Drive at Deerfield Lane, has been charged with failure to maintain control of the vehicle and for not wearing a seat belt, Hixson said.
He has been suspended from driving a bus for Loudon County until the school system completes an investigation and it receives results of the THP investigation, Luttrell said.
Keener, who works for bus contractor Vonnie Myers, was coming around a curve when the bus went off the road onto a grassy area and then sideswiped a telephone pole, Hixson said.
After he was able to get back into the driver's seat, he regained control of the bus and pulled over to the side of the road, Hixson said.
"(Keener) stated that he was trying to discipline a child, and then he went off the road. But he was going too fast," Hixson said. "He drives the same route every day. It was a dry road, the sun was behind him. There were no adverse weather conditions that would have caused him to do that."
Twenty-five students were on the bus. One was a Lenoir City High School student and the rest were going between North Middle and Eaton Elementary schools, the trooper said.
Another bus came to pick up the students who didn't go to the hospital and took them to school, Hixson said.
Loudon County's 34 route buses were equipped last summer with two digital cameras each at a cost of about $48,000, Luttrell said. Smaller buses have one.
The district's buses have used cameras for more than 10 years. Past cameras used old VHS technology and "they had just worn out," prompting the new cameras, he said.
---
Driver cited for Loudon Co. bus crash that injured students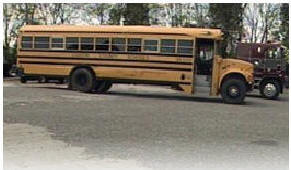 LENOIR CITY (WATE) -- A Loudon County school bus driver has been cited for crashing into a utility pole Wednesday morning, leaving seven students with minor injuries.
Bus 34 was driven by Gary Keener, who works for a contractor named Bonnie Myers.
Troopers say the crash happened around 8:15 a.m. near 14311 Northshore Drive.
There were 22 students on board the bus, believed to be on its way to North Middle School when it crashed.
Troopers didn't find any mechanical errors on the bus that has since been taken to Money Makers Wrecker Service.
Keener was cited for failure to maintain lane control and for not wearing a seatbelt.
"It appears he was going a little to fast for the curve he was going into. Whether he had looked back, we don't know. He simply stated he was disciplining a child," says Carey Hixson, a trooper with the Tennessee Highway Patrol.
Hixson says Keener told him he was distracted by a student on board and that's why he side-swiped a utility pole.
At one point, Hixson says Keener wasn't even at the wheel. He had been thrown from his seat and was lying on the floor.
Seven children on board were taken to a hospital for minor injuries. They had cuts and bruises and one had a knot on the head.
A parent of two on board, who wants to remain anonymous, says she's fed up.
She sent 6 News an email saying among other things, there seems to be an unusually high number of incidents involving Loudon County school bus drivers.
Her children say Keener is a very fast, possibly aggressive driver, and they claim he wasn't distracted by a student.
Camera equipment is installed in this bus and every other bus in the county, but Trooper Hixson says there wasn't a memory card in the recorder at the time of the accident. He says school officials had removed it to investigate a prior incident.
"What I'm trying to do now is determine why a replacement card was not inserted. So obviously, I'm upset," says Loudon County Schools Assistant Superintendent Gil Luttrell.
Still, Luttrell says Keener, who's been suspended pending the outcome of the school's investigation, is one of their best drivers.
Keener has no recent traffic violations.