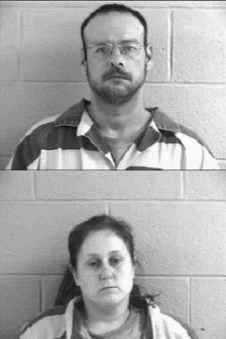 Loudon County Sheriff Tim Guider announces the arrest of two individuals that his Criminal Investigation Division (CID) has determined are responsible for several burglaries in Loudon, Roane, and Knox counties. Arrested were Gregory Linginfelter and Lora Jane Bright. They were arrested at 13127 Old Stage Road in Farragut, just at the Loudon/Knox county line.
Sheriff Guider advised that his investigators have been working for several weeks gathering information from pawn shops and gold dealers. The subjects are also charged with stealing items ranging from jewelry to TVís to laptops. The residence was searched and investigators found two stolen laptop computers, assorted jewelry, several guns, and approximately $11,000 in savings bonds. The owner of the savings bonds did not realized he had been burglarized until notified by investigators. Upon arriving at that victimís home to discuss the bonds, the door was found to be kicked open. It was later determined this was the same residence where the guns had been stolen.
Sheriff Guider stated that at this point at least four (4) burglaries in Loudon County have been solved and investigators are still contacting possible victims and identifying the possible owners of the recovered items. In one of the solved burglaries the suspects had taken the entire drawer from a dresser, which was later identified by the victim.
Guider further stated that both subjects have extensive backgrounds of thefts and other charges and interviews are continuing. He also noted that ATF may become involved with possible Federal charges for possession of firearms by a convicted felon. Investigators may also be charging other individuals that may have purchased stolen items from Linginfelter and Bright based on information gained from the ongoing investigation.