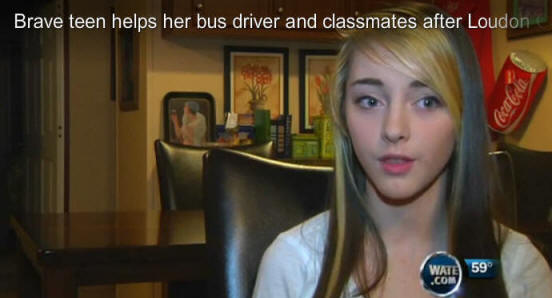 SWEETWATER (WATE) – A brave teen helped her bus driver and classmates in when an SUV and a bus hit head-on in Loudon County. The driver of the SUV was killed and several students were taken to the hospital.

"It was an SUV on our side of the road and my bus driver Larry had to decide either going right and possibly injuring all the students or he could've went left and only hurt a couple people and try to stay away from the SUV but after he swerved left, the SUV swerved back into their lane and we head on and our bus driver was ejected out of the side," said Jacee Williams.

15-year-old Jacee Williams has been a helper for her bus driver Larry Harbin for two years. She tells me she was mainly trained for emergency's like tornadoes or if the bus broke down but after Thursday's school bus crash she had to think quick on her feet.

"I used one of my friends phone to call 911 and I went out there and sat with the bus driver and talked him through it," said Williams. "When I was on the phone with 911 they told me to see if the bus was on fire in the front and it was so I went back on the bus and tried to get everyone evacuated."

Jacee's mom Tina Mckee says she talks to her children all the time about reacting fast during emergency situations.

I'm upset that someone got hurt but I'm very proud of the way she handled things, I guess it made me realize that she's more grown than I want to admit," said Mckee.

Not only did this 10th grader help her bus driver and seven others students she tells me she hit her head twice during the accident and later found out she had a concussion but Jacee says that was the least of her worries.

"When it happened, I didn't really think about what was going on, I just instantly reacted to called 911, get everyone off the bus and make sure everyone is safe," said Williams.

Jacee tells us Monday will be her first day back on a school bus since the accident. As far as the bus driver, Jacee says she spoke with Larry Harbin Saturday and he will have to undergo three months of physical therapy.