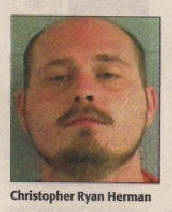 Christopher Ryan Herman, 27, Lenoir City was arrested last Wednesday for calling in bomb threats to the Loudon County Justice Center, a city hall and General Sessions Judge, Rex Dale.

The threats came in last Wednesday morning around 8:15 am. The threat did not specify which city hall had a bomb so both were evacuated. A second call came in minutes later with the threat to judge Dale. The caller stated that Dale "would not live through the day."

Herman was arrested later in the afternoon. He is being held without bond at the Justice Center. He has confessed to the crime.