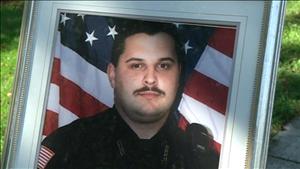 wbir.com-Dozens of people took a morning ride through East Tennessee on Saturday to honor the memory of a fallen officer and to help a child battling cancer.
It was all part of the 8th Annual Deputy Jason Scott Memorial Bike Ride in Loudon County.
"Seven years ago, it was on a Friday morning, it was a beautiful morning just like today," said Jimmy Scott, Jason Scott's father. "And Jason got a call to a domestic dispute, and as he was exiting his car, he was shot and killed, and it really changed our lives."
A teenager fatally shot Deputy Scott during a standoff back in March of 2004. He was the first Loudon County officer to be killed in the line of duty.
"The tremendous support that the sheriff's office had, that the family had on that tragic day, people coming together, and we certainly appreciate them very much," Chief Deputy Tony Aikens said.
Part of that support came in the form of a bike ride that first raised money for Scott's daughter, Jayden, who was born after his death.
The memorial ride has continued every year since, but organizers decided to begin using the funds raised to help a child in need in the community.
This year, that child is Rory Eller, a 4-year-old who is battling brain cancer.
"She's got a benign brain tumor, and typically they would cure it with surgery, but hers is located, it's growing around her thalamus, which is located in the middle of her brain," said Ashley Eller, Rory's mother. "They can not surgically remove it without killing her, so she goes to chemo every two weeks. They tried one chemotherapy, and it didn't work, so we're on our second one, and we have a few more to go if this one doesn't work."
Although she was visibly tired, Rory attended the memorial ride, an event her mother hoped would also bring the little girl some joy.
"I feel really blessed, and I think that it's great that, after eight years, they're still putting this on and people are still interested and still supportive of the cause, and I'm just glad that they saw fit, as far as featuring Rory on it 'cause I think it's a good experience for her, and that's just kind of what we're focused on right now is giving her a lot of good experiences," she said.
Helping others seems to be helping the Scott family cope with the loss of Deputy Scott.
"He was really looking forward to Jayden being born, everything was ready, they had painted her room, had everything set up, so, because he loved children, that's why we chose children to do," said Carolyn Scott, Jason Scott's stepmother. "It just means a lot to us to be able to see a child that is sick and we can help them out, help the family out, it helps bring us some peace."
Around 75 bikers took part in the ride that began and ended near Fort Loudoun Dam Saturday morning.