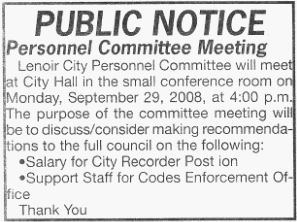 Meeting in the small conference room. Definition- Lenoir City will be holding a meeting that they would rather the public and media did not attend.
Adequate public notices of Lenoir City and LCUB meetings have gotten very rare. But when you see a notice of a meeting being held "in the small conference room" , that's a sure sign they don't really want any outsiders attending. The small conference room has one large table that seats about eight and that's about all that will fit in the room. No coincidence.
The posted meeting above could prove to be an important one. The personal committee will be determining the pay of the new treasurer/recorder. There has long been a rumor that after losing their bid to eliminate the elected treasurer/recorder position, those who have worked so hard to take over city hall have one more shot. The rumor goes that the council will set the pay so low that no one would take the job. Well, come Monday we will find out.
With no other candidates in the race, Bobby Johnson Jr. will be the next treasurer/recorder. Jr. has already indicated that he plans to run the office as the city charter requires. If he follows through with that it will destroy everything judge Vann and others have worked so hard to accomplish in their bid to overthrow city hall.
Jr. will have his hands full getting things back in order but I suspect he will do it.