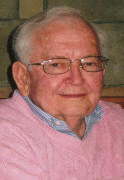 Benny Lynn Shubert, age 76, of Lenoir City passed away Friday, August 14, 2009. Benny was a former member and Sunday School Teacher at First Baptist Church Lenoir City and currently a member of First Baptist Church Concord Westlake. He was the owner and operator of Shubert Motor Sales Inc. since 1967 and was awarded Manheim Nashville Dealer of the Year for 2005 to 2006. He was a member of Avery Masonic Lodge #593 F & AM,, past member of Lenoir City Rotary Club and was a Past Board of Director for First Central Bank. Most of all Benny loved his wife, children, grandchildren and great grandchildren. Preceded in death by his parents, Joe E. "Buck" Shubert and Laura Grace Shubert; grandson, Lucas Brooks; twin brother, Billy Glenn Shubert; brothers, Jimmy and Ed Shubert; sisters, Saranelle Shubert and Mary Stooksbury. Survived by his wife of 53 years, Fannie Rhea Shubert; children and spouses: Sally and Byron Proaps, Cindy and Eddy Brooks, Mike and Sandy Shubert, Mark and Lori Shubert all of Lenoir City; grandchildren: Phillip and Mandy, Benjamin and Heather, Joshua and Christy, Josh and Stephanie, Mandy and Matt, Michael, Austin, Marcy, Lexee, Gracie, Addie and Kelsey; great grandchildren: Malachi, Mason, Maverick, Olivia, Owen, Mahala, Jesse, Kaylee, Aubrey and Emma; sister and brother-in-law, Judy and Wayne Howell of Lenoir City; several nieces and nephews. The family will receive friends from 5 to 6:45 p.m. Monday with Funeral services to follow at 7 p.m. at First Baptist Church Lenoir City with Rev. Phillip Martin and Rev. Dick DeMerchant officiating. Family and friends will gather at 11 a.m. Tuesday at the Lakeview Cemetery for graveside services. Grandchildren will serve as pallbearers. Honorary pallbearers will be Tom Lewis, Aaron Lewis, Quintis Richmond, Bill Packett, Jack Bowden, Willard Rollins, Mickey Hall, Donnie Montooth, Ronnie Huffstetler, Tim Tyler, Herb Johnson, Mike Sims, Sonny Routson, Jack Sartin Sr., Lamar Waldrop, Big Ray Herron, Russell Irwin, Chris Wampler and Jerry Spoon.
Click Funeral Home, 109 Walnut Street, Lenoir City
is serving the Shubert family.