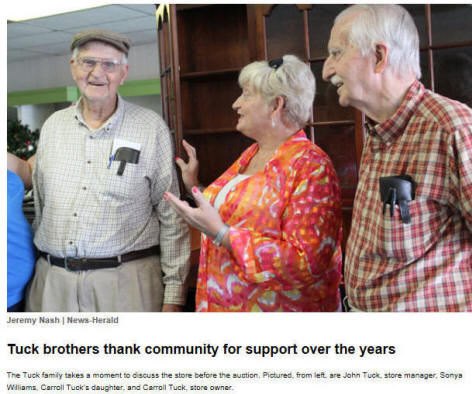 Furniture and appliance store Carroll's Bargain Box has been a staple in the city of Loudon and served as a destination for residents to shop and catch up.
Now after 34 years, 81-year-old owner Carroll Tuck is closing the business to focus more on family and "taking it easy."
Tuck and his wife, Virginia, opened the store in 1980 in downtown Loudon before moving into its current establishment two years later off Mulberry Street. He retired in 1995 from Maremont to put all his efforts into the family business. Tuck said he's closing the store because "it's time."
Members of the community gathered inside the 21,000-square-foot store July 11 to both lend their support and bid on items. An auction was held to help Tuck clear his inventory and sell the property. The store is expected to stay open until July 31, he said.
"Oh yeah, I'll miss it, but it's time for me to go ahead and retire, you know?" Tuck said. "A lot of friends, I want to thank them for supporting me and trading with me."
Carroll's older brother, John, who has served in a managerial position for 26 years, said the community has shown "real good" support in the wake of hearing about the store's imminent closure.
But the community has always shown support, even when Tuck's wife passed away in 2001, Carolyn Clayton, one of Tuck's daughters, said.
"At Mrs. Tuck's funeral, many customers came not only showing their respect, but mourning a dear friend," Clayton said in an email.
Loudon resident and longtime customer Ruth McQueen said she was at the store to lend her support and bid on a "small piece or two if the price is right, an old memento from the day." She said she had known the Tuck brothers for decades and had been a customer for about 10 years.
"I think change has to come, and I know they're to the age they'd like to have more retirement time, so you can't complain about that," McQueen said.
McMinn County resident Martin Long said he had been shopping at Tuck's store since 1985.
"I'm really going to miss him being there, I know that," Long said. "I — still thinking about it today, it's just sad. It's like an institution disappearing for me. It's like losing a member of your family, the way I feel about it."
He bought two china cabinets and a bar stool in the auction. Two weeks before, Long purchased two bedroom suits and a dining room table, he said.
"He (Tuck) always had a pretty good wide selection of things, and you could always find something there that would appeal to you that would suit your taste and he wasn't like the big box stores," Long said. "I mean, he was flexible on his prices. The more you bought the more discounts you'd seem like he'd always give you, and he was just a pleasure to deal with. He was just like dealing with a member of the family."
For years the store served as a home away from home for the Tuck family, where Carroll's grandchildren would play hide-and-seek and help their grandfather when he needed them to lend a hand, Clayton said.
"My children, which are now grown, one's in college and one's out of college now, but both of them used to love to ride in Grandpa's truck and come down here," Sonya Williams, one of Tuck's daughters, said. "We've had a lot of fun seeing what my dad would pick up. I hate to see him close the store down, but again, he's 81 and his brother is 89. I think probably it's time."
Williams said she had mixed feelings about the store's closure because it was such a big part of her life. Tuck opened the store when Williams attended the University of Tennessee and her sister, Clayton, was a student at Loudon High School. She said what made going to the store so special was its ever-changing inventory where one day Carroll's Bargain Box may have rare knives, new refrigerators or antique furniture, and another day it may have old dolls, CDs or antique jewelry.
"It's not an antique store, and it's not necessarily (a) new and used furniture store; it's really just anything imaginable here that you can get," Williams said. "When they thought of the name bargain box, they were trying to think of some place you could come to get a really good bargain, but at the same time you never knew what kind of treasure you were going to find."
Carroll's Bargain Box is open 10 a.m.-5 p.m. Monday-Saturday.
Williams said she didn't know what her father and uncle planned to do once the store was closed, but expected them both to still be active in the community and continue helping those in need.
"My uncle, he gardens and he cans and stuff," Williams said. "My dad's always doing something, and I see them both doing things. What's really funny is I came down here one day, and they were arguing over who could lift the heaviest furniture, and they were lifting a big, huge china cabinet by themselves, and they're both still strong and alert."