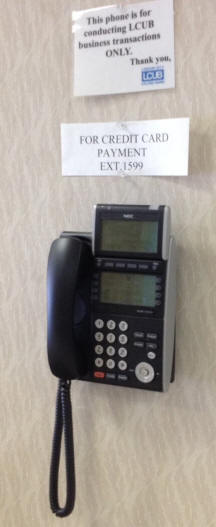 My wife has become quit the online buyer, bill payer, prescription orderer and so on. And why not, it's just so easy now days to do your business online. That is unless you're an LCUB customer.
The other night Sarah told me I needed to go by and pay the electric bills in the next day or two. (This is a monthly thing.) Then it dawned on me to ask why she didn't just pay the bill online like we do everything else. She said it was a whole thing where you had to register with a third party and beside it cost $7.00 to pay on line. It's actually $7.25.
So I made my monthly trek down to the LCUB office sure Sarah was incorrect about the payment system. As I was paying by bills with the old fashion checks, I inquired of the young lady taking my payment as to whether I could pay with a credit card. She informed me I could by using the phone on the wall in the lobby there in the office. Explaining that I would need to call the company that handles LCUB's credit card payments. Bad news is, it would cost me $7.00.
So I tried another approach. I asked if I could pay with my debit card. You guessed it. Phone on the wall, cost me $7.00. They don't even have any kind of a card reader on site.
So here you have one of the largest utilities on the TVA system. They're on the cutting edge of technology. Smart meters for our electric, water and gas meters. Building a new state of the art facility even talking about getting into the broadband business. YET, they can't process a credit card.
One day I stopped at a yard sale on the side of the road. The lady making the sales was taking credit card payments on her smart phone. Maybe it's just me, but is anybody else disturbed by an operation of this size with this many customers and the only way to pay your bill is check, cash or money order. Seems a bit old fashion to me.
In all fairness, the young lady taking my payment did say they were working on improving their system. I just hope they don't go back to using the telegraph.
---
Online Bill Payments

LCUB partners with a third-party provider for online bill payments. You may make a one-time electronic funds transfer, Visa, MasterCard, Discover, or American Express payment by clicking the link below.

IMPORTANT NOTE: Any payment made using Online Bill Payments will be assessed a $7.25 convenience fee by our third-party provider. LCUB does not receive any portion of this fee