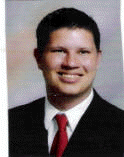 It's official, my oldest son Austin is running for 2nd district county commission, seat "B". The seat currently held by Shirley Reno will be on the ballot of the February presidential preference primary. Normally, this seat would not be up for election till the regular commission election which will be in 2010. However since Ms. Reno was appointed to the seat in 2006 after it was vacated by the appointment of commissioner Chuck Jenkins as county property assessor, the law requires the seat to be on the next regular election. Five have picked up petitions to run for seat "B" but only Austin and Ms. Reno have actually filed to run.

I might be a little biased, but I believe Austin would make an outstanding commissioner. Even as a youngster, he would voluntary go with me to various government meetings and always had great interest in what would take place at the meetings. Austin is a 2001 graduate of Lenoir City High School. Austin graduated Summa Cum Laude from the University Of Tennessee in 2004 then graduated Magna Cum Laude with high honors from the University Tennessee School of Law this past May.

Austin will be kicking off his campaign soon. His web site, www.austinshaver.com is up and going and will have all of his information soon. I know Austin would greatly appreciate your support in the upcoming election.