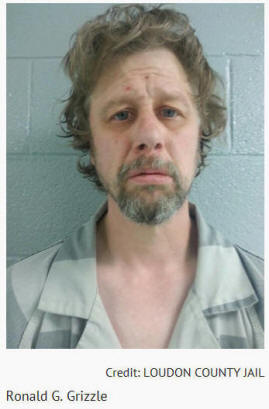 LENOIR CITY — A suspect in a Christmas Eve killing paralyzed himself when he suddenly somersaulted forward, landing on the back of his head and neck on a jail cell's concrete floor in front of horrified jailers, authorities said.
Ronald Gregory Grizzle, who turns 49 today, was taken to the University of Tennessee Medical Center. A hospital spokeswoman would give no details on his condition Thursday.
"The entire incident, as bizarre as it sounds, was self-induced," 9th Judicial District Attorney General Russell Johnson said.
The incident Monday was captured on the Loudon County jail's video camera system. Johnson said he reviewed the video and interviewed jail staff.
"In all my years, I've never seen anybody do that," Loudon County Sheriff's Office Lt. Patrick Upton said.
Grizzle was in an isolation cell and was being regularly monitored, Upton said. During one checkup around 10 a.m., a jailer noticed blood on Grizzle's wrist, asked for another officer and summoned a nurse.
"Without any warning, he does a forward flip and lets his head hit the concrete," Upton said.
Grizzle was "immediately incapacitated" and underwent six hours of surgery Wednesday.
"He has no movement except a small amount in his hands," Upton said. "The diagnosis doesn't look good. He wasn't in shape to even sit in a wheelchair."
Grizzle's father, Ronald W. Grizzle, said his son had tried to commit suicide and suffered three broken vertebrae.
"We don't know if his paralysis is permanent or temporary at this time," the father said.
Ronald Gregory Grizzle is charged with first-degree murder in the Dec. 24 shooting death of his friend, Cory M. Brown, 27. Investigators said Grizzle admitted to killing Brown, who had been living for several months in a camper beside the home Grizzle shared with his father in the 300 block of Clinchview Drive near the Loudon-Roane county line.
The shooting occurred after an altercation outside the home.
Brown and his son were friends, Grizzle said, and his son allowed Brown to stay in the camper all summer after Brown and his girlfriend had broken up. Grizzle's father said his son has a bipolar disorder and had quit taking his medication.