Here's you another page in the rubber track story book at Loudon High School.

Below is a public notice in the Wednesday, 5/11, News Herald.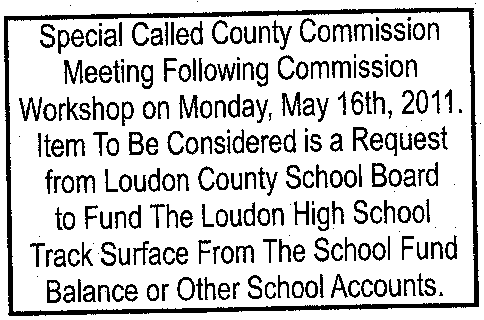 Seems right I guess. The law requires public notice on special called meetings of the county commission. But here's the problem. The Loudon County School Board has not requested the county commission to fund the track surface. In fact the board will not be voting on the matter till tonight, Thursday 5/12.
Now how is it that those in the positions of power could anticipate that the school board will vote in the positive Thursday night to ask commission for the money and plan for a special called meeting of the commission?
Review: BOE budget committee said no to the extra $57,000.00 to the rubber track. The full BOE board said no to the rubber track. Then the full board said yes to the rubber track and sent it to commission. Commission said no. Now the full board is going to vote on it again and apparently somebody is pretty confident it will pass.
It's just amazing. I'll keep you posted.