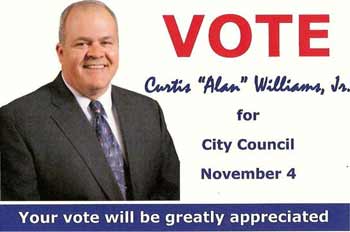 My name is Curtis "Alan" Williams, Jr. And I would like to introduce myself and announce my candidacy for the office of the city council in the Lenoir City Election to be held on Tuesday, November 4, 2008.
I am retired from Viskase Corp. in Loudon where I worked for 34 years. I am a life-long resident of
Lenoir City. I have three sons, Curtis Alan Williams III, Brad Williams, and Andy Williams. I am married to Debbie Cline Williams, and she has two sons, Brandon Cline and Blake Cline. I am the son of Tiajaunia Williams and the late Curtis A. Williams, Sr.
I feel I am qualified for the office of city council. I served on the city council previously when I was appointed to serve out my father's unexpired term after he passed away in 2004. Because of my background in business and serving my community as an elected official, I believe that I bring experience and "know how" in decisions that could be beneficial to the progress of Lenoir City.
The reason that I would love to serve you as a city councilman, is to help improve our city and quality of life. I have the time and energy to commit myself to work hard for you. I love the small town flavor of our city; but the future expansion of Lenoir City needs to be planned to perfection. I want to bring fresh ideas to help with our city's growth and development. I would appreciate your vote on Tuesday, November 4, 2008.