Second only to the birth of a child in importance to a parent is the marriage of a child. What a special occasion. This past Saturday was the wedding of Loudon County Assessor, Chuck Jenkins, oldest daughter. The joyous event took place at a beautiful church in downtown Loudon. It was a wonderful wedding with a large attendance of many friends and family of the bride and groom.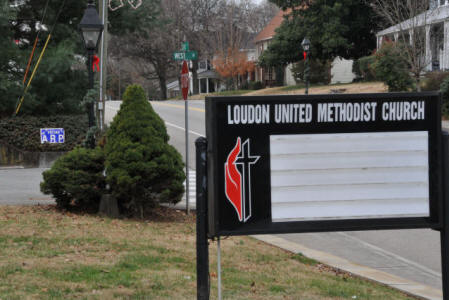 Just when you thought Doyle Arp couldn't get any lower, he proves just what kind of a person he really is. Strategically located approaching and around the church were signs someone had placed that stated "We're Voting For Arp." One was just feet from the front porch of the church.
Given that there are no elections going on nor will there be for at least two years, it's obvious that these signs weren't placed, where they were, for any campaign. No, these signs were place apparently by Arp or one of his two or three supporters as some kind of, I don't know, protest against Mr. Jenkins? You see, Doyle Arp some how blames Chuck for all the "unusual activity" he got caught doing while he was the property assessor. You remember, like cutting developer Mike Ross an $11,000,00.00 break on his property appraisals.
First, I'm at a total loss as to what Arp thought he would gain or prove by putting his signs around the church. What was the point? Did he think he would stop the wedding? Did he really think that somehow his name plastered around the church would diminish the event or hurt Jenkins feelings? Talk about the playground bully. A couple of us asked Chuck if we could take down the signs, at least the ones right in front of the church. Of course Chuck being the kind of man he is, told us just to leave them be. What a stark contrast in the character of these two men. One of high moral character, one of no moral character.
Here's the question. What in the world is going through a man's mind like Arp to pull such a foolish, juvenile stunt like this? What could he be thinking? How could anybody have so much hate and anger in their mind and heart that they would think trying to disrupt a wedding is somehow justified? It's beyond me.
I can assure you that very, very few of the wedding attendees had any idea what the Arp signs were about or probably even noticed them. And I guarantee you that that the farthest thing from Chuck's mind was Doyle Arp as he was giving his first born daughter's hand in marriage.
I'm sure Mr. Arp will deny any knowledge or involvement in the stunt, he's pretty good at avoiding responsibility for his actions. But if anybody still had any doubt about what kind of person Doyle Arp is, this should clear it up.