A new image for Elder's Ace Hardware
Tammy Cheek farragutpress.com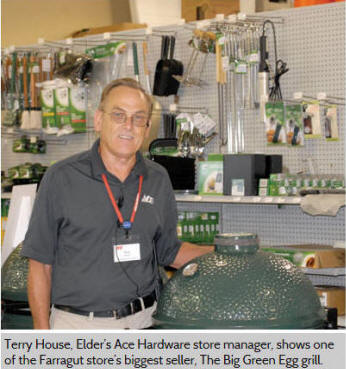 Ace Hardware, 19670 Highway 11 East/Kingston Pike just outside of Farragut, has a new name and website.

The store has been rebranded as Elder's Ace Hardware, with new website address: eldershardware.com.

Tom Glenn, owner of the Dixie Lee Junction store, said they changed the name of his group's 18 stores last month.

Dixie Lee Junction has been home to Ace Hardware, a few hundred yards west of Farragut town limit in Loudon County, for about 24 years.

"That store used to be Myers Bros. Ace Hardware when we bought it in 2000," Glenn, president of a group of family-owned stores, said. "It was owned by R. Knick and Noah L. Myers."

Noah Myers said he and his brother owned the store for 10 years before they sold it.
"We started it from the ground up," Myers said, adding they sold the business because they were pursuing opportunities in real estate.

"We took Myers Bros. off the name and just named it Ace Hardware," Glenn said. "That was our first store in [Knox County]. Since then, we opened three other stores – Halls, North Broadway and Bearden."

He said his stores are part of the Ace Hardware co-op, rather than the franchise. That means Glenn's group has some flexibility in how it operates and in his brand standards and culture.

In addition to the traditional hardware products, Elder's Ace Hardware at Dixie Lee carries lawn and garden items, as well as some home décor merchandise.

"People don't think about lawn and garden, but it's a very important category for us," Glenn said. "There are some brands that do well at the store.

"The Big Green Egg [grill] is one success the store has had," Terry House, store manager, said.

"It's one of our biggest sellers."

"The Big Green Egg is new for us, but it has taken off like wildfire — not just the grill but the accessories and supplies that all branded the Big Green Egg — have taken off for us as well," Glenn said.

"We have brands that a lot of other chain stores don't have, and we have hard-to-find items," he added.

One such brand is Stihl, which manufactures gasoline-powered, hand-held outdoor power equipment such as blowers, chain saws and string trimmers.

"We do a real good job with the Stihl line of blowers and trimmers," House said. "Both of those lines are really good for us."

Also, the store services the Stihl products, Glenn said.

Paint is another important category for the store, he said, adding the store carries Benjamin Moore paints.

And, Ace Hardware offers hard-to-find products, such as one of the biggest assortment of fasteners, pipe fittings, repair items for sliding doors and more.

The store also offers such services as glass cutting, cutting keys, sharpening chainsaw blades, cutting chain and rope, filling propane tanks and mixing paint, as well as color matching, he said.

Glenn added, customers can go to its website and have in-store items shipped.

"We created a culture in the stores that focus on the customer above all things," he said. "Brands change, but our customer service doesn't."

The store is open from 7:30 a.m. to 8 p.m., Monday through Friday, from 8 a.m. to 8 p.m., Saturday, and from 10 a.m. to 6 p.m. Sunday. Currently, its website is youracehardware.com.