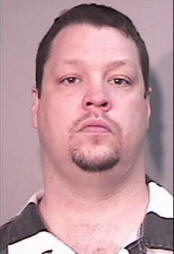 wbir.com-Authorities arrested a man for his eighth DUI offense early Sunday morning after leading Knox County deputies on a chase through three East Tennessee counties.
It happened just after midnight, when a Knox County deputy stopped a 1995 Ford Mustang on Kingston Pike at Cavette Hill in West Knox County. The Knox County Sheriff's Office said in a release that after being pulled over, the suspect, William Ferguson III, 40, sped off and knocked the deputy to the ground.
The officer immediately began chasing Ferguson's Mustang. The pursuit continued from Knox County into Loudon County on Kingston Pike and Campbell Station Road, and then continued on I-75 into Monroe County.
Knox County authorities said when Ferguson sped into Monroe County, he took exit 62 to Oakland Road, spun out in the median and came to a stop at about 12:40 a.m.
According to Loudon County dispatchers, Loudon County authorities also participated in the pursuit. Monroe County Sheriff's Office said officials deployed spike strips during the pursuit.
According to the KCSO web site, authorities took Ferguson into custody and charged him with reckless driving, three counts of aggravated assault, two counts of simple assault, driving on a revoked license, resisting arrest, and 8th offense DUI.
The Knox County deputy hit by Ferguson's vehicle was not injured.
His bond amount is unknown at this time.