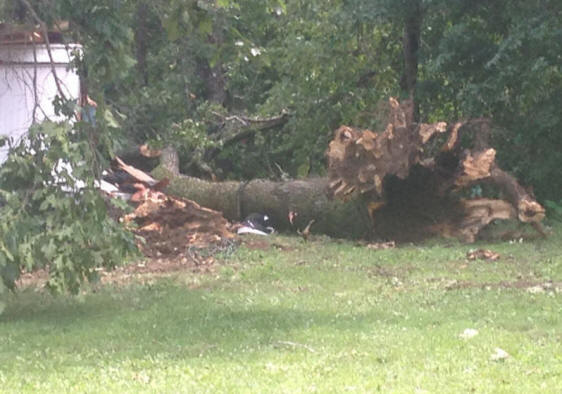 PHILADELPHIA (WATE) – A three-year-old girl has died after a tree fell on a mobile home in Loudon County Monday night during straight line winds and rain.

Natalie Alvarez, 3, was killed when a tree fell on her bedroom while she was sleeping, pinning her underneath according to Sheriff Tim Guider. The home is located on Stockton Valley Road near Philadelphia. The girl was taken to Sweetwater Medical Center where she was pronounced dead.

Sheriff Guider says the tree demolished most of the home. The girl's parents and two older brothers were not injured. A neighbor brought over a tractor to help the family get out of the home.

This is every parents' worst nightmare and the Alvarez family tells us the accident is still hard to believe.

Trees are splintered, there are piles of branches pushed aside, and family was picking up pieces of their life on Tuesday morning, scattered because of a storm.

"It's devastating to lose little ones and my heart breaks for the family," said friend Becky Richesin.

The Alvarez family is mourning, neighbors helping them move while others came by for support.

"I'm really at a loss for words, really it's hard enough just being that close and it's just tragic," said neighbor Shauntey Moore.

The Moore family was hugging their children tighter and thinking of little Natalie Alvarez who would have turned four years old at the end of the month.

"The little girl was always on the porch playing, waiting for the school bus to drop her brothers off. It's really tragic," said Moore.

Because of the heartache, people who live out there are doing all they can to help.

"The most devastating part is that they lost their child. A child can never be replaced but homes can be replaced and this is how people can help," said Richesin.

A community heartbroken and missing a little girl who meant so much. "Prayers are what they need the most right now. They need prayers for understanding, prayers for patience, prayers for guidance, that the community could reach out to them and lift them up," said Richesin.

The Alvarez family is staying with other family members in the meantime. Neighbors are asking for donations to help pay for the girl's funeral. For more information on donating e-mail cherrybrookfarm@gmail.com. We're told monetary donations can be made out to the girl's mother, Mirta Garcia-Alvarez, which can be sent to Mirta Garcia-Alvarez c/of David and Becky Richesin 25025 Stockton Valley Road Philadelphia, TN 37846.