2 arrested in series of Oak Ridge car burglaries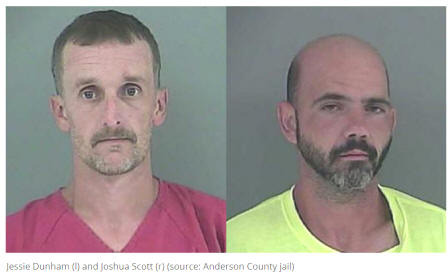 OAK RIDGE (WATE) – Two people were arrested and charged with a series of car burglaries in Oak Ridge.
The Oak Ridge Police Department investigated a series of overnight burglaries Thursday in the area of W. Outer Drive and Montana Avenue. The same day, officers encountered Jessie Dunham, 40, of Lenoir City, who was found to have items from one of the victims.
A second suspect, Joshua Scott, 38, of Oak Ridge, was identified and more stolen property was identified. Both suspects were booked into the Anderson County jail.
The Oak Ridge Police Department is still working to find the owners of some of the stolen items. If you believe you may have been the victim of a vehicle burglary or a theft from your yard or carport, call ORPD at (865) 425-4399.